While staying home during the pandemic, people rediscovered the joy of play, using activities like board games, coloring books, video games, and puzzles to escape reality, occupy their time, and cope with stress, burnout, and isolation.
While the pandemic inspired more people to get playful, the concept of incorporating fun-focused programming into corporate events isn't necessarily new. Just look at how successful escape rooms are in Malaysia.
Mental health has become a full-on pandemic in and of itself. It is really important to let go and escape sometimes. Adults often lose the language of play and being silly.
Sure, business events are about customers discovering your products and services but how do you stand out from your competitors when all products seem similar? ASMR experiences, soundscapes, scent exploration, immersive videos, and more can help.
Besides being a good time, play for adults does offer tangential benefits including improved stress management and better overall well-being. 
Play can also keep conference attendees attentive and engaged longer; improve brain function; foster empathy, compassion, trust, and intimacy; and spark innovation, curiosity, and creativity.
When you infuse play at your event booth, attendees are more likely to follow their curiosity, are more open to sharing, and more willing to experiment. 
What makes a majority of people remember your brand is how much of an enjoyable and impactful experience they had, and that happens through connection. Play gives an excuse for attendees to connect where they couldn't before.
In order to improve both learning about products and networking, we have to design for more participation, hands-on interaction, and, most importantly, peer sharing.
If you're thinking about adding in a play element to your next event, understand what you want your customers to learn/know, how you want them to feel, and what you want them to do after they have participated.
Stop choosing activities just because they 'sound like fun'.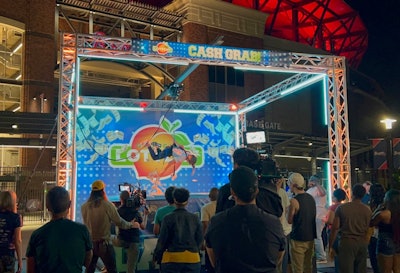 Photo: Courtesy of Interactive Entertainment Group
If you're looking to engage as many people as possible, incorporate multiplayer games. And if you're hoping to generate leads, consider adding an experience that involves a leaderboard, which prompts leads to enter their information. 
Because of the isolation caused by the lockdowns during the pandemic, people value in-person experiences more than ever. People have access to games at home, but it's very different from a live experience where you're able to connect with people in a physical space.
Stay Up to Date With The Latest News & Updates