You don't want to "green-wash" through your brand experiences but need your brand to connect with audiences on a meaningful level that leaves lasting impressions. Everything you plan has to deliver more, but without increasing budgets.
This might seem impossible but it is possible with proper planning.
Organizing events with a green mindset is all about taking action. Small at start, growing bigger as you go along. The formula for success is simple. 
Most companies want the world to witness the technology and innovation behind their products, but in equal importance they needed their brand environment to perpetuate interest and conversation that focused on the company's sustainable vision for the future.
Ergonomic Environment design
When designing the brand experience, focus on reducing and reusing as many elements as possible. Efficient modular designs allow for multiple areas to be re-purposed for future events.
Sustainable Material sourcing
To eliminate waste and pollution where possible, the whole environment can be developed with green materials that can either be reused or recycled. From recycled fibreboard tubes and carbon-positive flooring to materials created from recycled ocean waste, a wide catalogue of resources can complement the design.
Digital Content Immersion
Wide LED walls can be used to visually immerse visitors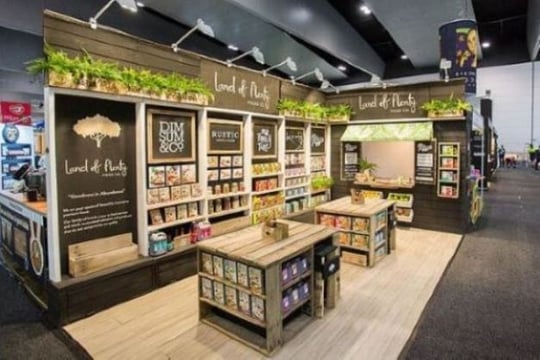 Image credit: Castle and Cubby
Choose energy efficient electronics
Having a sustainable stand doesn't mean your stand needs to be built out of cardboard – you can still have a great stand without excessive use of electricity. When possible, make use of natural lighting in the venue to illuminate your stand and avoid using a TV to showcase your brand. If lighting is essential, LED lights are an energy efficient option for your exhibition stand as they use up to 75% less energy than regular light bulbs.
Go paperless
Marketing materials and business cards are an essential when communicating with prospects at your exhibition stand. You can reduce your waste, and costs, by going completely paperless. Instead of handing out brochures or flyers, you can direct your prospects to an informative landing page or easily send a pre-prepared e-book to their email.
In these tech-savvy times, there are new applications available that allow you to store and send electronic business cards from your phone or tablet. This not only reduces your carbon footprint but ensure prospects won't lose that business card in their wallet.
Avoid shipping and transportation
When possible, choose an exhibition stand supplier that's local to the expo venue. This will avoid the costs and pollution associated with transportation. This is especially useful for international exhibitors as eliminates impacting the environment by shipping your stand overseas. 
Purchase your stand for re-use
If you've already designed your exhibition stand with bright lights, audio and visual components, and painted graphics, you can still be sustainable by purchasing your stand and making plans to re-use it in the future. Stands made with high quality materials will be durable and reusable. Ensure that you communicate this with your supplier to discuss any storage solutions they offer.
Renting flooring and furniture
Renting certain elements of your stand, such as flooring and furniture, is a simple way to be more sustainable. These items can be re-used by the supplier for future stands, ensuring they don't go to waste after a single use. Renting will also reduce your costs of storage and the amount of waste you produce at the end of the show.
Smaller stand = smaller footprint
Bigger isn't always better. The larger your stand is the more materials and equipment it will require. Commit to being more sustainable at your next expo by opting for a smaller space. A smaller stand requires less power, less structural elements, less painting and less graphics, but still has the ability to attract visitors.
Opt for re-usable graphics
Creative and eye-catching graphics are a must for all exhibition stands. For a more sustainable approach, invest in fabric printed graphics. These graphics are high quality and durable, allowing you to re-use them for any future events and expos you attend.
 These are just some of the changes you can make to your exhibition stand to take the step towards sustainability. When planning your next eye-catching stand, speak to your supplier about how you can create a stand that suits your needs, your budget and the environment.
Stay Up to Date With The Latest News & Updates